Rising country star performs tonight in music series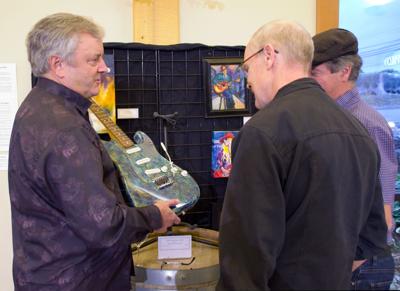 Guests sipped wine, listened to jazz and took in the works of Randall Young as Grizzli Winery officially opened its art gallery Thursday evening.
The new gallery allows local artists to showcase their work the massive space the winery has to offer, said Matt Lakuk, marketing co-ordinator for Grizzli.
Randall Young's work resonated with the Grizzli team, being wine-inspired and from the Okanagan.
Young's show, Layers of Time, is a showcase of the evolution of his art, with some of the approximately 60 pieces going back as far as 34 years. 
Young said he painted a fair bit when he attended the Alberta College of Art and Design in Calgary, then was a graphic artist for some 20 odd years.
Toward the end of that, he started painting more.
About 4.5 years ago, he moved to Okanagan Falls from Alberta.
Young said once he realized he was in wine county with beautiful landscapes, he jumped into more of the local scenes and themes.
Young said he's not big on photo realism.
"I always tend to make the colours a little more vivid," he said. "Even if something looks blue, I'll use another cool colour, a purple or a bluey green. I like to play with the colour a lot."
Young recently completed a painting of a grizzly bear, which hangs behind Grizzli's tasting bar.
He hiked up Mount Boucherie to take a few photos in the evening to get the right light, and then sat down and put the painting together with photo references of bears. 
"I don't like getting that close to bears," he said.
The exhibitions will change seasonally. Young's Layers of Time exhibit will be on display until the end of November.