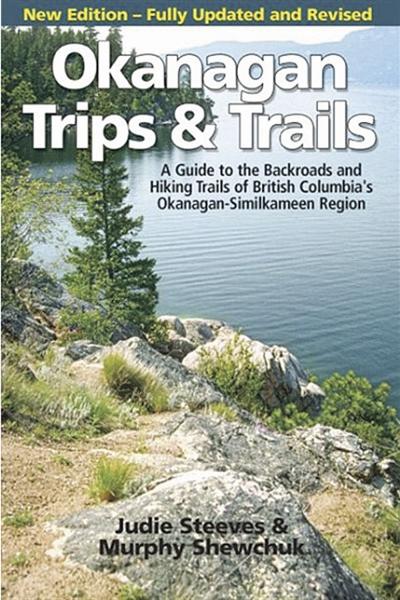 Hiking author's favourite trail is all of them
The series on the best Okanagan trails takes a break this week with a request for feedback from readers, plus the latest version of a popular outdoors guide.
This spring, the series has featured the following trails up and down the valley: Grand Kelowna Triangle; Wood Lake Loop; Skaha Lake Loop; Okanagan Rail Trail; International Hike and Bike Trail (South Okanagan); Black Mountain Regional Park; Myra Canyon in Myra-Bellevue Provincial Park; Kalamalka Lake Provincial Park; Rose Valley Regional Park; and Spion Kop Mountain (Lake Country).
In recent weeks, the Sheriff surveyed outdoor recreation buddies and those he met on the trail asking about their favourite trail or those not yet featured. The feedback shows the Okanagan indeed has an incredible variety of trails fulfilling a wide variety of appetites for outdoor adventure. Email jp.squire@telus.net to have your say.
Trails that haven't been included in the series so far, include Three Blind Mice mountain bike trails east of Penticton, KVR Trail from Penticton to Little Tunnel, Mount Boucherie in West Kelowna, Knox Mountain Park in Kelowna, Bear Creek Provincial Park canyon and Fintry Provincial Park falls on the Westside north of West Kelowna.
One way to discover new trails is to ask someone like Judie Steeves who has spent her whole life exploring, and has again teamed up with Murphy Shewchuk for the new version of their guide book, Okanagan Trips and Trails. It is available wherever books are sold, including local wineries in their gift shops.
The latest edition is updated, fully revised and expanded. Steeves is elated that this guide to British Columbia's Okanagan-Similkameen regions has hundreds of colour photos to illustrate "the many stunning views from some of Canada's most scenic and awe-inspiring wild places."
Its 483 pages not only tell you where to hike, bike, boat, fish and camp, but includes the Southern Interior's heritage, thanks to Shewchuk's lifelong interest in B.C. history. It also has chapters on the Top Five Okanagan Birding Locations, Birding Walks in Kelowna and Public Gardens in Kelowna.
Trails at ski resorts include Apex and Mount Baldy in the South Okanagan, Big White and Telemark in the Central Okanagan, and Silver Star and Sovereign Lake in the North Okanagan.
This fine book is a must-have for any serious outdoor explorer, but it may take a while to read every page. The Sheriff likes to browse and when he finds a bucket-list outing, he highlights it with yellow marker on the Contents page at the front.
"Actually, it's been really fun work! It's taken me years and years of hiking to put it together, and I've enjoyed every minute of it," says Steeves.
"I admit that in the first half-hour on many of the trails, I've wondered briefly whether I really want to do this. But then, I look out over the view that's starting to appear below me, or the flowers dotting the hillside beside me, and I get my breath back. Lots of the trails involve an uphill start because we live in this valley. But that also means as you climb, the panoramic views can take your breath away, just as the hike does," she says with a laugh.
"I honestly can't give you a single trail that's my favourite because it depends on the time of year and my mood. For that reason, we're incredibly lucky to have such a variety of trails to hike.
"In mid-summer, I simply love hiking in Cathedral Provincial Park, partly because the meadows of alpine wildflowers and the views out over those lakes are so awe-inspiring.
"But in spring, Knox Mountain Park is among the first spots wildflowers appear because it's so close to the valley bottom.
"Rose Valley (Regional Park) is one of my favourite places to hike with its views and variety of habitat. But then, I am on the boards of two local land trusts, both of which contributed funds to establish that park. So it's dear to my heart.
"I also love the High Rim and Okanagan Highlands trails, especially from Canyon Lake to Little White, and particularly in summer.
"Fintry (Provincial Park) is one of my favourite family parks in the Okanagan for its history and lakefront. But for hiking, Okanagan Mountain (Provincial Park) is far better.
"For a workout, the new Mount Boucherie trails are fantastic with the reward of a grand view from the top. But the views from Pincushion in Peachland and the new Black Mountain Regional Park are also amazing.
"Guess I'm a bit long-winded but I am passionate about this valley's natural areas. We're very lucky to have preserved some of them, and we must make sure a few more are kept natural too."