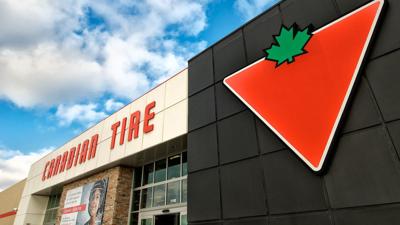 Local Canadian Tire owner Don Cummins is buying his staff lunches from the Kekuli Cafe during the COVID-19 pandemic.
The COVID-19 pandemic has been hard on businesses. Those who remain open to the public as essential services are under pressure to try to keep up, while restaurants struggle to stay alive offering take-out and delivery.
On the Westside, Don Cummins, the Canadian Tire dealer, and Sharon Bond-Hogg, owner of the Kekuli Cafe, have formed a mutually beneficial partnership between their neighbouring businesses.
For more than a month, Cummins has been supplying daily meals to his staff from the Kekuli Cafe.
Cummins came up with the idea as he was heading home after a long day at the store and noticed the large 'We are open' sign painted on the Kekuli Cafe's window.
"It dawned on me that with only take-out orders, small businesses like that were struggling to make ends meet," said Cummins.
He had met the owners before.
"They are really great local folks," he said and thought maybe he could help them and at the same time give something back to his team at the store that would lighten their daily stress.
"They make the best bannock in the world, so my staff was just as excited," he said.
After Cummins got in touch with his general manager, they contacted Bond-Hogg, and together they came up with the plan.
Bond-Hogg said Cummins called her out of the blue asking if she would be interested in forming a partnership as he would be buying his staff lunch through the COVID-19 crisis.
It was good news for Bond Hogg, who said the partnership has allowed her restaurant to remain open. Restrictions during the pandemic had seen her sales drop 75 to 80%, and they were looking at cutting back hours, closing certain days or even closing their doors during the pandemic.
"We gained so many new customers and everyone has loved the food," said Bond Hogg. "We almost have everyone's name memorized and the staff there are positive, friendly and supportive."
The partnership has also given people the chance to see what the Kekuli Cafe offers as the only Indigenous fast casual restaurant in Canada.
Popular items for the catered lunches include frybread powwow tacos, handmade bannock flatbread with homemade pebre salsa, sour creme, lettuce, cheese with a choice of venison, chicken, chorizo or corn/bean and the venison bacon cheddar on homemade baked bannock YeYe bun.
"My team loves it," said Cummins, adding some of his staff have mentioned the catered lunches relieve a lot of stress related to getting groceries or making lunch every day.
"It feels good to help out our neighbours and employees," he said.